I'm going to have to say it - Christmas! Every year I say I'm going to be more organised, and every year I regret that I haven't. Well, this year it's a little bit different because I've had to be.
Christmas is something I've been planning for some time, you do if you want to be ahead in business, I know some shops are already selling Christmas items, and have been since the end of August.
As you know, my website will be live very soon, courtesy of the fabulous BWebsites, their team and I have been putting a lot of time and effort into making sure it's exactly how I want it to be. I knew it was going to take a lot of time and planning, but I didn't realise to what degree.
So, with that in mind, I started to design my Christmas items in May and began to make samples in June.  I will be launching them with the new website, and at the Christmas and Craft Fairs I'm doing this autumn, but I thought you might like a sneaky peek at just a few of the items I will be offering...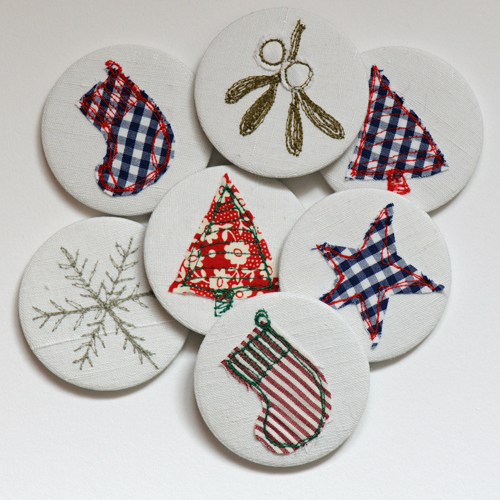 I'm always searching for a little something for friends and colleagues at Christmas, and these compact mirrors have already proven very popular. I've used a range of vintage Liberty prints and other fabrics on a background of vintage linen, the linen used here is French. I'll be adding to these with different fabrics, still keeping them very festive!
It is beginning to look very Christmassy in my studio, and somehow it doesn't feel right! I'm already planning for Valentines day and Easter of next year, so I wonder how I will actually feel when Christmas is upon us?
I hope I haven't depressed you with my use of the "C" word...
Have a great day!