As you know, I have been frantically getting myself and the What Katie did next... stand ready for the Festival of Crafts show at Farnham Maltings this weekend. I came up with an idea a few weeks ago to make the stand different, and I have painstakingly put it together all by myself! When I put the stand up on Friday evening, I was so proud as all the planning came together...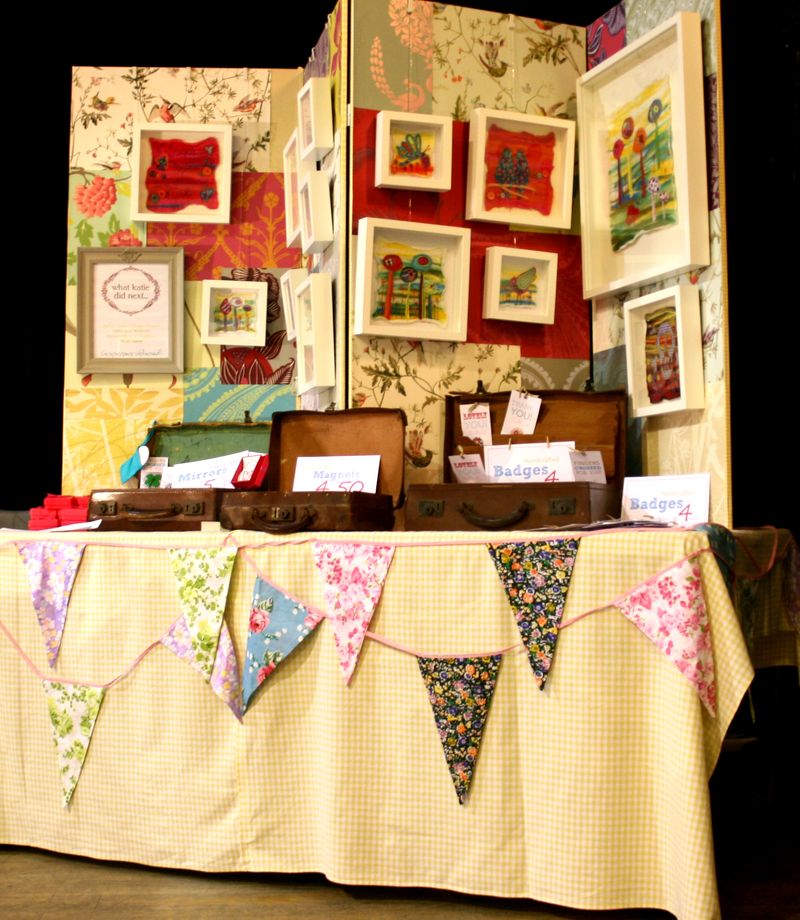 I took a few photo's at this stage, it wasn't quite finished, I'd forgotten to bring a few bits and bob's, (but remembered them Saturday morning!)
I built the backing boards, putting the hinges on myself! I'm sure my husband thought I was quite mad when I told him my intentions to build the stand, but as I explained to him, I wanted my customers to see what the pictures look like when they're hanging on the wall.
I was going to keep the background white (I have white walls in every room) but I decided that many potential customers may have colours or patterns (or both) on their walls, and they may like to see what the pictures look like with a patterned and / or coloured background. So I ordered, and used, an enormous amount of Cole & Sons, Osborne and Little, and Cath Kidston wallpaper samples, choosing What Katie did next... brand colours, and styles I felt fitted my work and the tastes of my customers.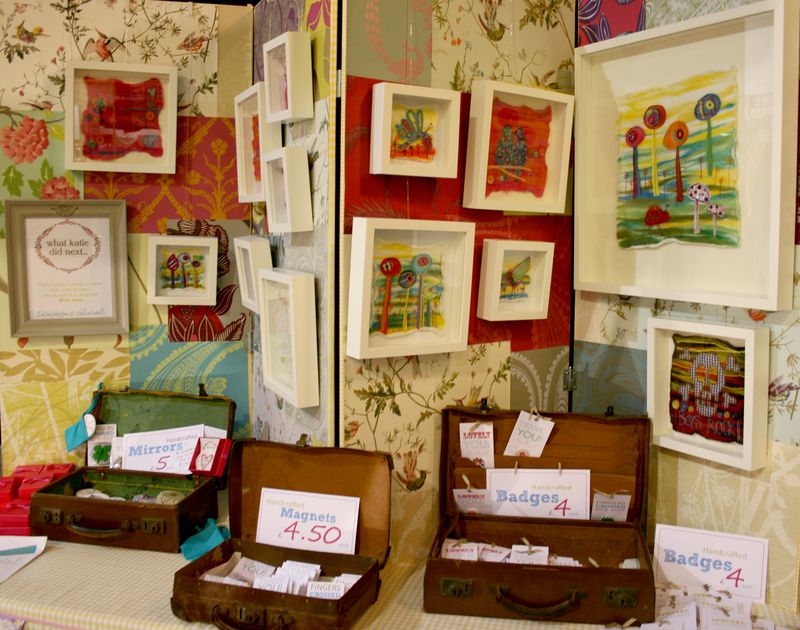 As you can imagine, I planned the stand two or three times at home, to make sure I was maximising the potential of my space.
The suitcases you can see here are just three that I have been collecting for a number of years, in fact since my early teens. I have them in all sorts of shapes and sizes, some more battered and bruised than others.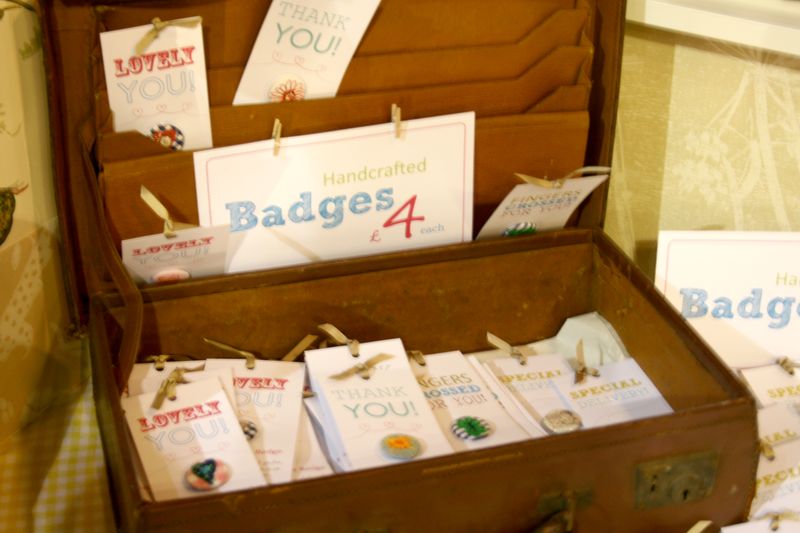 This one however, has a special place in my heart. It was my husband's grandfather's college case, he used it for carrying his books back and forth. On the top of the case it has his initials stamped onto it, and inside you can see the marvellous detailed pockets, these are leather too! My lovely mother-in-law saw that I had a collection of cases a few years ago and gave it to me, and I was so glad this weekend to make good use of it, the badges are displayed perfectly in it aren't they?
I had a wonderful but very tiring two days, I met a number of lovely people who have been reading my blog whom I haven't had the opportunity to speak to before, and some brilliant creative people. Lots of people signed up to receive my newsletter, and asked about me doing workshops and short courses. A lot of the other exhibitors I met were so helpful, especially when they knew it was my first big craft fair, offering pearls of wisdom and helpful hints.
And, to top it all, I had fantastic feedback about my work, and my sales surpassed my expectations quite dramatically, so overall a great success!
Have a great day!