I've been really looking forward to sharing this!
My cousin and her Fiance were married this weekend, an occassion my family have been looking forward to very much. I knew I would make a gift, knew I would include green (it being my cousin's favourite colour), but they were the only two absolutes! So, when the invitation arrived in the post I was really pleased to see the lovely design on the front, as it had a row of ornate birdcages in a lovely pink on a green background. 
Bingo! my idea was sorted. I love birdcages, I have a small collection of them, one of which is in our bedroom, so I was particularly excited about this. I made some sketches, basing them somewhat on the invitation design and after deciding on one, and spending some time creating, I came up with this...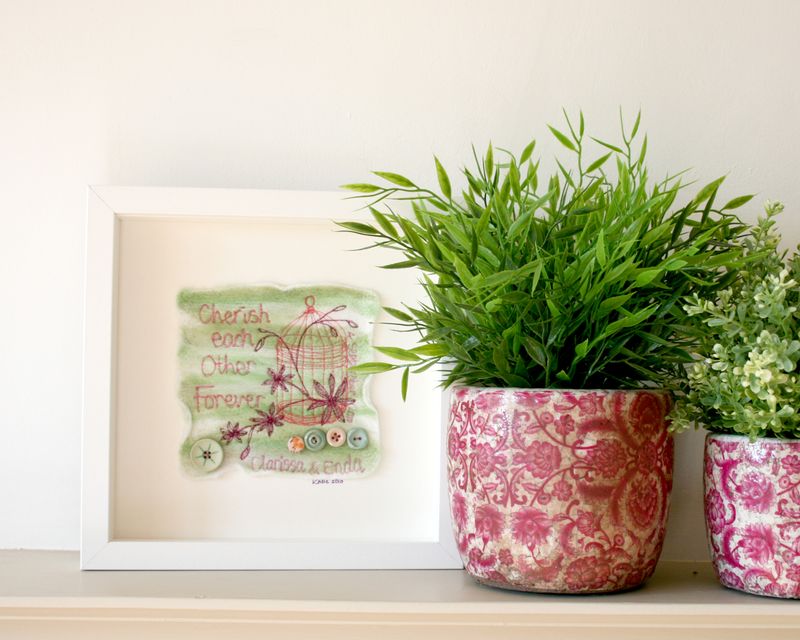 I'm very pleased with the detail, I used the trick of different bobbin and top thread colours to create more texture in the stitching, and kept to a limited palette (few colours).
I was so pleased, when entering the Wedding Venue, to see a lovely birdcage, as I knew my hunch about the theme was right! It was a beautiful wedding, they are a lovely couple who make each other very happy, and I hope they like their gift!
Have a great day!